Learn What's REALLY Happening In Southern Minnesota's Real Estate Market
Market conditions change daily. If you're looking to buy (or sell) in the next 6-12 months, you need to know what's happening with real estate values so you can plan accordingly (and keep more money in your pocket).
That's why I've put together my "Market Trend Update", and I want you to have it at no cost or obligation.
Here's What You'll Learn In This Free Report: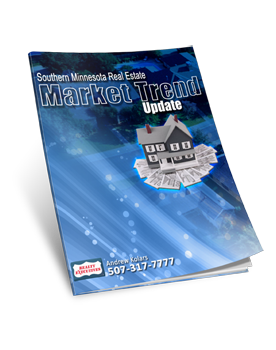 How much homes are selling for
How long homes are taking to sell
Which areas are "Seller's Markets" 
Which areas are "Buyer's Markets"
And more!
Fill Out The Form To The Right And You'll Get Your Market Trend Update INSTANTLY By Email
So you can stay on top of area values, you'll continue to receive an updated Market Trend Update report at the beginning of each month by email (unsubscribe at any time).